How to get 1000 subscribers on YouTube quickly
2022-12-11 12:10:00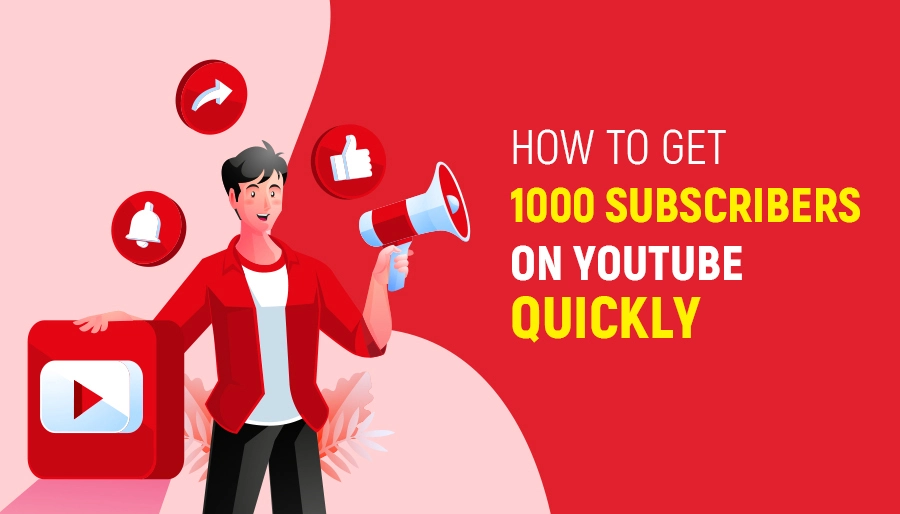 Subscribers are the lifeblood of YouTube, and the number of subscribers to your channel is one of the most important criteria to gauge success there. Higher subscribers equate to more video views for you. If you are wondering how to get 1000 YouTube subscribers fast, then this is for you.
Your subscriber count will be greatly affected by how frequently you submit videos because the more videos you post, the more people will watch them. You consequently receive more interactions, likes, and shares.
However, posting videos is only one part of the process of gaining YouTube subscribers. Here are a few tips that will help you get 1000 subscribers on YouTube easily.
1. Produce interesting and educational content
You must write compelling and educational information if you want people to view your video. Here are some ideas for improving your content:
Create your content with a certain audience in mind.
Make sure to prepare your video screenplay in advance to ensure that all the important details are addressed and that the audience isn't overloaded with information. Divide the content into multiple videos if you think there is too much in one.
When you occasionally give a strong example, your audience will appreciate it. As many instances as you can, but make sure they are from reputable websites.
To make your text more appealing, include pictures.
Always begin your videos with a captivating hook that will entice viewers to watch the rest of the clip.
Use only original stuff. Your video won't be compelling enough if you incorporate someone else's content, and you risk upsetting viewers as well.
To interest your audience, use cards, end screens, and pattern breaks.
The frequency of your uploads is the second crucial factor that you should be aware of in this post on how to increase YouTube subscribers.
2. Regularly produce and distribute videos
Without a doubt, regularly producing and posting videos will help you gain more followers. On the other hand, people won't want to subscribe to your channel if you haven't published it in a while.
YouTube channels with more frequent updates than once each week outperform those without, claims Social Media Examiner. Anybody who subscribes to your channel will receive an email alert each time you post a new video. It's more likely that someone will watch your video if they receive an email reminder once a week, especially if the content is unique, interesting, and educational.
There are also more chances of increasing your subscriber base if you can afford to release more than one video every week. If you utilize a fixed-frequency approach, you can also increase your subscriber base more quickly.
You must also optimize your content after you have finished uploading it. As part of this essay on how to grow YouTube subscribers, let's look at how you can achieve it.
3. Optimize your YouTube videos
Your material will rank higher on YouTube if you optimize your videos. It's likely that viewers of your videos will also engage with your material. A lot of video components, including the title, description, video, and other meta tags, can be optimized to make sure your movies are seen by the proper audience.
Title
According to Backlinko, "Using an exact keyword in your video title can help you with ranks." In the end, a higher ranking translates into more views and subscribers.
Description
Make sure to include all the relevant details while writing the description for your movie, including keywords, timestamps, and links.
Timestamps make it easier for viewers to select and play a specific segment of the video. By including links to other relevant videos, you can highlight other videos and keep your content interesting.
Video tags
The use of video tags facilitates video discovery. Other techniques for channel optimization include:
Post a compelling thumbnail
upload the video's transcript
Your YouTube videos should have a start screen and an end screen. A start screen that showcases the appearance of your videos up front and an end screen that is not dim and uninspiring
You might want to rethink your position if you believe that improving your videos alone would bring in more subscribers. You should optimize your YouTube channel as well. Here's how to optimize your YouTube channel to gain more subscribers.
4. Optimize your YouTube Channel
One of the best ways to get 1000 YouTube subscribers is to optimize both your channel and your videos on YouTube. Some of the simplest ways to do this are listed below:
Make a trailer for YouTube.
A trailer provides a sneak peek at what your channel has to offer to viewers. You can provide information to your viewers through your trailer.
Your company
What kind of videos do you provide?
A sneak preview of upcoming videos
Release schedule
Create an interesting look for your channel
By using relevant channel keywords, channel descriptions, and channel art, a YouTube channel can appear fascinating.
Use keywords and make sure the information is brief and engaging when writing a channel description. According to Backlinko, "a YouTube SEO ranking factors study found that channel keywords have a small-yet-significant correlation with greater YouTube search rankings." Your channel description's opening of 100 to 150 characters is crucial because they are displayed next to your channel in search results.
After your description, provide a suitable call to action. Select some trendy, cool channel art that is also appropriate for your brand.
Your homepage should contain sections and playlists.
Put your videos on your homepage and divide them up into different parts and playlists if you have a lot of them. The proper keywords, titles, and descriptions can help you optimize these playlists as well.
5. Create high-quality videos
Videos with subpar audio and/or video don't appeal to viewers.
People will engage with your videos and take you seriously if you have a professional video on display. By taking these easy measures, you can enhance your professional reputation.
Make sure there is no background noise present when you are recording your video.
Make sure the audio is clear by using quality recording equipment. As you are recording, keep an eye on the input volume meter as well.
Use studio lighting and a green backdrop for recording.
Your videos should be at least 1080p in resolution. Backlinko claims that YouTube promotes HD video rankings.
Before filming, prepare your video screenplay so that you will know what to say and how to cover all of your key aspects.
To emphasize particular aspects of your video, intelligently use slow motion and jump cuts.
Use a tripod to stabilize your video recordings, and take horizontal footage. You can utilize a clip-on lens to get broader images.
Pick a reputable video editing software.
Finally, carefully review your work before releasing it.
6. Add a subscriber watermark to all your videos
You can include a watermark on your YouTube videos. This is a fantastic approach to encourage viewers to subscribe to your channel. A call-to-action, brand name, or logo can be used as a watermark.
7. Engage with your audience
You can increase your viewers' satisfaction by interacting with them. This increases the likelihood that people will want to subscribe to your channel. This is why it's crucial to interact with your audience if you want to grow your YouTube subscriber base.
At the conclusion of the video, thank the viewer for their time and let them know where they may get more information.
Backlinko says, "Encourage your audience to leave comments and offer criticism on your video. "Video comments have a very strong correlation with rankings. Take advice from the critics and apply it to your video. You can constantly pick up fresh concepts from your viewers and make brand-new videos based on their remarks.
Engagements can be raised by rewarding great remarks (both on and off of YouTube) for their support. Moreover, live streaming is a terrific approach to engaging with your audience in real-time without always using a pre-recorded video.
8. Promote your videos on other platforms
It's a good idea to advertise your videos on other platforms if you want your video to be seen by viewers outside of YouTube.
Social media
You should start by taking a look at the platforms you already utilize. You can use many other platforms as well, but Facebook and Instagram are fantastic places to start.
Include a link to your YouTube video with any posts you make on Facebook. Use the identical approach on Twitter, Instagram, and other social media platforms.
Debates on forums and blogs
Additionally, you can engage in forums and blog conversations and share your YouTube link anytime it is pertinent and makes sense for the conversation. Join reputable Q&A websites and respond to queries about your video there.
For instance, if you are participating in a blog debate about machine learning, you can include your YouTube video on What is machine learning? in the comments section along with your argument.
Link building
Look for reputable websites that are pertinent to your content and work with them to create backlinks. You can also choose to build links with testimonials, in which case someone links to your video while giving a testimonial. Work along with other YouTube channels as well; chances are good that others are pursuing the same goals.
Influencer marketing
Influencers have loyal followers which makes it easier for them to reach a large audience. If an influencer broadcasts a video on your behalf, it will assist you in swiftly gaining a large number of subscribers.
Email marketing
Emails are a fantastic tool to communicate with many people at once. Use email marketing by including a link to your YouTube channel in your email signature.
Other strategies to advertise your material
Promote your videos on relevant community pages to interact with others
Make your video available on recognized video directories.
Put links to your videos to well-known bookmarking websites (eg: subscriptionshub.com)
Incorporate videos into your blog content.
Promote related videos on the end screen of your video.
Conclusion
These are a few of the tips that will help you grow from 0 to 1000 subscribers on YouTube easily. We hope it helps in achieving your YouTube objectives with this post on how to increase YouTube followers. Increasing your subscriber count will help you identify yourself as a professional on YouTube. Producing quality material and optimizing important areas are the only ways to do this.
We at Subscriptions Hub can help you create engaging and efficient marketing videos while giving you a few tweaks to get more subscribers on YouTube and grow your channel. We have our team of experts who are skilled in various Youtube marketing and stay updated on the latest trends. Fill out our contact form (input link) https://www.subscriptionshub.com/contactus or email us if you have any inquiries at info@subscriptionshub.com.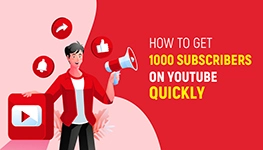 Subscribers are the lifeblood of YouTube, and the number of subscribers to your channel is one of the most important criteria to gauge succes...
Read more